After today I'm pretty sure I work with the smartest people in the world, at least when they are making things like this:
When I was leaving work this afternoon I was presented with this awesome embroidered shirt for our company's bowling team, part of Portland Ad League Bowling. The name of our team is "Bowl Job." Now I just need to get my name embroidered onto the front.
I love how subtle this is, it leaves a lot to the imagination. I think the bowling pin is supposed to be some sort of phallic symbol.
I give Karen full credit for making this awesome design and I probably owe her a beer or something. It's been three weeks since I rolled and I'm anxious to try out the new ball I bought the other day at an estate sale.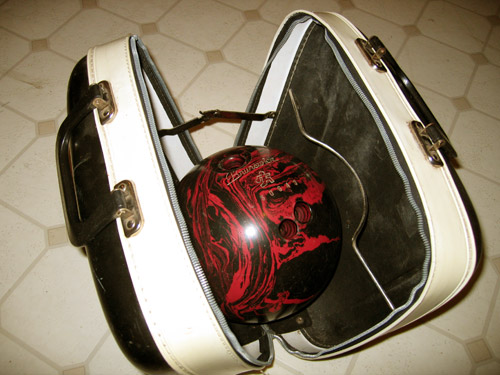 Only five bucks including the case – it's a red and black marbled Brunswick, the finger holes actually fit me well. I'm hoping the ball works out because seriously, how awesome would it be to step into the alley with your own ball.
The only downside of Thursday bowling is missing out on dMob, which is in North Portland at a bar called Vendetta. No regrets though, I choose bowling, drinking and shmoozing over simply drinking and shmoozing. It's simple mathematics really.