Well, it's actually been up for about a month now, but for the sake of documentation and random folks reading this, my new project "The Penny Jam" is viewable at www.thepennyjam.com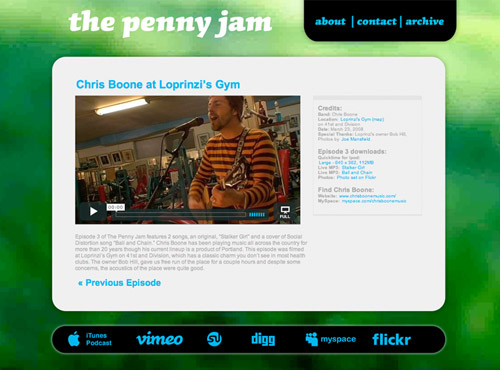 This is a project Sean and I have been talking about for a while and as planned we shot our first episode at the beginning of March. Essentially The Penny Jam is a weekly video podcast where we have a different band play in a different location each week. It's not an entirely original idea, but then again what is, everybody has a video podcast these days. Okay maybe not but I think that the main distinguishing factors of this project are 1) the fact that we are promoting Portland music and shooting in Portland locations 2) we're focusing on keeping the production value really high.
Our sound engineer James Jacobsen is key in maintaining this quality – and as Sean once said to me, "as long as the audio is good people will forgive just about anything visually," (very rough paraphrase.) So far the sound has been great and it is impressive to see James adapt to various unconventional locations (furniture store, gym, dollar store) but thankfully there is nothing to hide, I'm stoked about the video quality as well.
Canoe at the Monochrome Gallery from The Penny Jam on Vimeo.
We're hot on the toes (as opposed to heels) of pitchfork.tv launching about a month before them. We are not putting out nearly the quantity they are, but then again we aren't in it for the money. I'm actually a big fan of the pacing so far, one shoot per week doesn't interfere with life or work and we still manage to put out something pretty rad. I've watched a few episodes on Pitchfork TV so far and it is pretty cool, I'm curious to see how they'll mix it up. I really hope that they keep the locations fresh – with the high production value I pray they don't restrict themselves to sound stages. Today I watched a couple songs from the series "Don't Look Down" featuring The Thermals from here in Portland. It was a pretty dope set, and I like the idea of a rooftop series. It would be great to see them exploring different NYC rooftops, so again, just hoping they don't restrict themselves to THAT one roof, even though it is a beauty. Apparently Pitchfork's attempts are working though, I see that the Radiohead song "Bangers and Mash" that was up on the main page yesterday is on the front page of Digg today.
Yeah, but enough of that for the moment, if you are interested in this live video thing, check out The Penny Jam and represent Portland style.